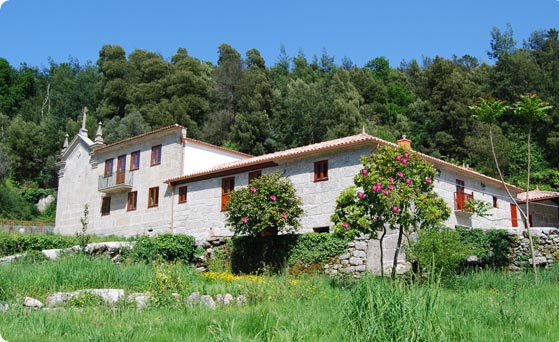 About the Quinta
Quinta Casa Da Fonte is situated in the green north of Portugal named the Minho region, in the surroundings of Serra da Cabreira and Peneda Gerês National Park. The manor house with chapel was originally built in 4 different stages of approximately the 13th century up to 1867 and is now a charming authentic Guest House.
The name "Casa da Fonte" in Portuguese, means; "The house with the water spring", and upon today we use our natural sources for our water supplies. The "Quinta" has 11 suites, of which 8 for our guests, a bar, a dining room, a swimming pool, a children's playground and a swimming pool for children. The manor house also has a chapel (anno 1867) renovated in original state, "Senhora do Rosário, protector of the travellers and children".
In former days the Quinta served for travellers as a stopover. A travel through the Serra, the mountainous area behind the Quinta, took one day in that time. As well has the Quinta been used as a medical practice, it was also the residence of several priests and where they wrote some of their books (anno 1754 and anno 1923). Their written memories provided us with very valuable information. One of the Quinta´s owners was Padre José Carlos Alves Vieira, who wrote the `Monograph of Vieira do Minho´.
Going for 100% Self-Sustainable!
With nature's help, we produce at the moment a significant amount of energy. By means of the sun (electricity, warm water and heating), biomass also for heating. At present we generate almost all our own energy, but our aim is to extend this in the future and as a result to be entirely autonomous.


Going for 100% Self Sustainable!